I'm living vicariously through my guys this week.
I can't wait for full version of the week's adventure details.
...because I thought whoever took this picture must have giggled at the photo bomber one step away.
Really stand in photographer?... you couldn't wait two more seconds to snap the pic?
Knowing the characters on the trip, they do this stuff on purpose.
I'm not going to get political...
I've always been a fan of Barbara's and I bet she has fun giving him a hard time about his new look.
I love this massage lotion!
It is full of homeopathic remedies to help soothe muscles. It has worked wonders for my shoulder, a long term deep tissue injury, and this this lotion helped loosen the muscles. I now have mobility in my shoulder I hadn't had for two years.
It was given to me as a gift from my mom. When it ran out, I could not find it sold anywhere online, only at Whole Foods. I have had a unofficial boycott of Whole Foods, mostly because I have found them to be anti-family, anti-big family, anti-family on any kind of a budget. I enjoy stores like HEB and recently new to our area Trader Joe's for an alternative. But WF was the only one I could find who had this lotion in stock.
So, I broke my over ten year long boycott of the anti family over priced food monster to go and buy several bottles.
I discovered there are two kinds:
The purple cap is good for an evening shoulder rub, soothing, relaxing.
The red cap combination is powerful, and smells like menthol and camphor, and tingles the skin for almost an hour after applied.
5
Every one of my kids has enjoyed the "which dog are we" game in the Go Dogs Go book. Do your kids do this? All my six kids pick Craig as the blue dog handing out cake, or swinging with them in the bottom right corner. I am usually assigned as the happy yellow dog handing out cake.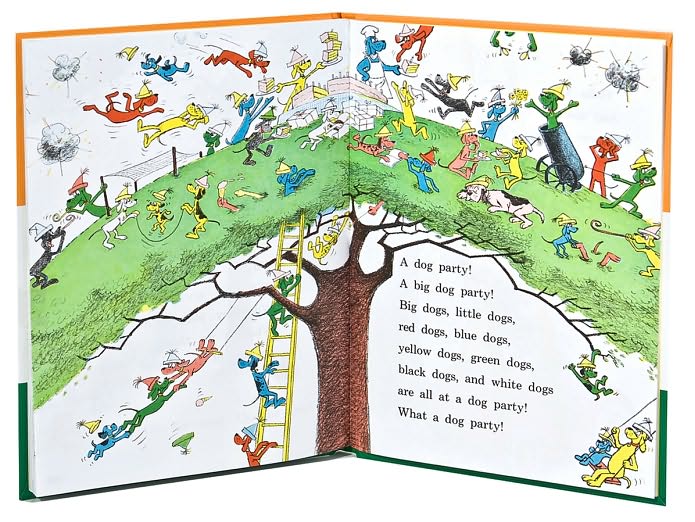 It's kinda of a one person game, because when more gather around the book, they tend to claim the same dog.
6
Still without internet and tv (except coverage on my phone) so I haven't been able to follow much of WYD.
But I do have the Pope App on my phone so I can
read articles about his visit like this.
"The young – he said - who do not have the experience and the dignity of work, and the aged who are not allowed to speak are being marginalized.
And Pope Francis invited young people to go out and to fight for these values: he urged the aged to speak out, to pass on history and memory, and said that young people must not be against the elderly: "they must listen to them"."
7
7 posts in 7 days blogging challenge
has been fun to participate,
but even better to read the flood of Catholic bloggers posts on the internet this week!
Thanks to Jen for inspiring so many to take the challenge.
Happy Friday!